Jazz At Atlas Presents: Clarinet Madness at Jazz At Atlas at Atlas Studios
When
Sat, June 16, 2018
8:00 pm
About
"Jazz has always had its share of mavericks, iconoclasts and will-o'-the-wisps. These outliers have continually spiked the music's punch with their unique musical visions. New York-based clarinet virtuoso Perry Robinson has been all three, often at the same time. Though he's gone his own stylistic way, he's been able to comfortably insinuate himself in any number of settings on the edge of the jazz margins."

-- Kirk Silsbee, Los Angeles Times

"Michael Marcus is a passionate player and a fluent composer of themes that inspire improvisers."

-- Bob Blumenthal, Boston Globe...
James Keepnews uploaded this event on May 22, 2018
TICKETS
Start your ticket shopping from Jazz Near You and you'll support us in the process. Learn how.
Tzadik
2009
buy
Ictus Records
2007
buy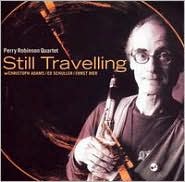 West Wind Records
2006
buy
Chiaroscuro Records
1977
buy
AKM Records
1976
buy